Calypso condominium sales history
Updated 9/06/2016: As one of the most popular condo complexes in Panama City Beach, Calypso is known for its prime location near Pier Park. Since the real estate market began to rebound in 2011, Calypso has been able to command higher prices, and these units sell for more than similar floor plans in nearby buildings.

Sales volume

2016 sales volumes are likely to be similar to 2013 and 2014. Over the past few years, more and more Calypso condominium preconstruction owners have become comfortable selling at the current prices.
Individual floorplans
Standard 1-bedroom floorplan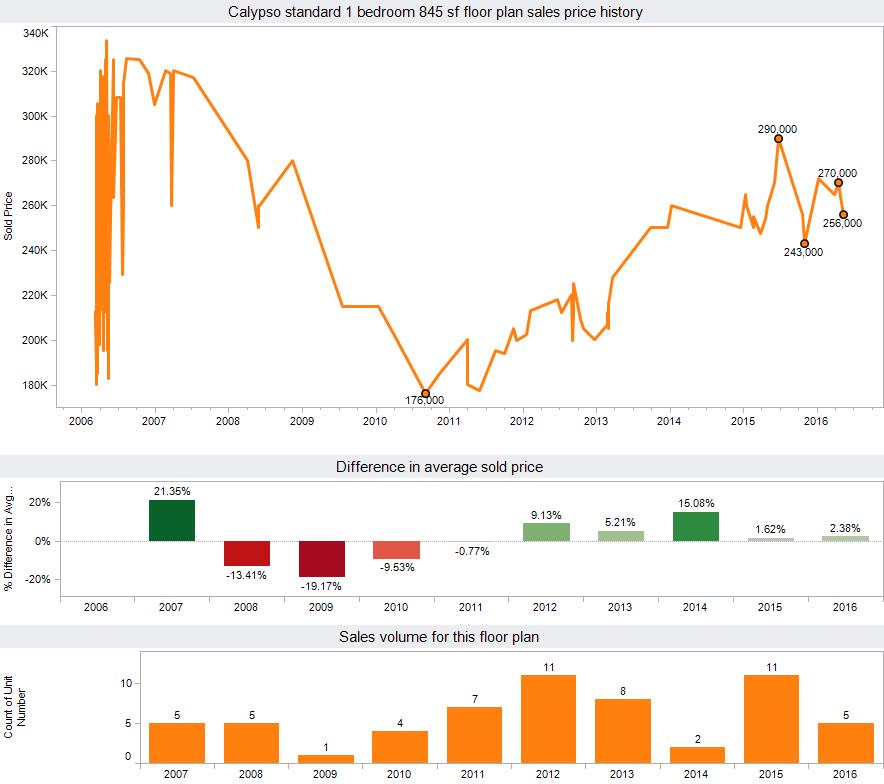 Of note, a standard one-bed unit sold eleven times in 2016. There are currently 15 one-bed units on the market with a starting price of $262,000 (8 asking between 262-265k). The average sales prices only increased 1.62% last year and 2.38% so far this year.
2-bedroom + bunk floorplan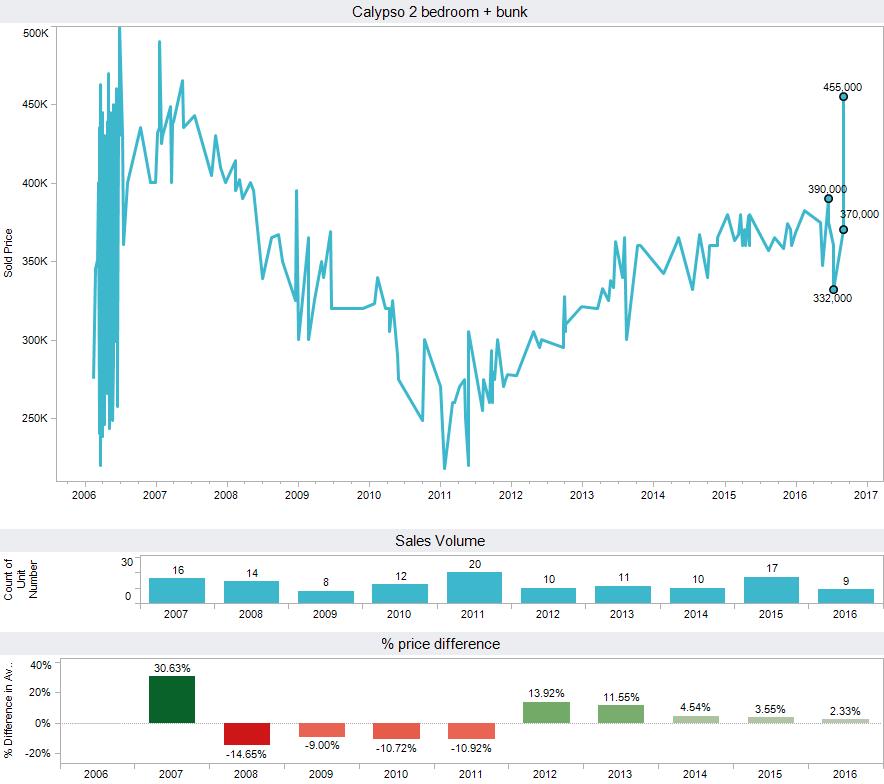 Calypso condominium recent sales
1-bedroom standard
1-1407 sold in April 2016 for $263,500.
1-1803 sold in May 2016 for $256,000.
1-bedroom with master on the water
1-805 sold in June 2016 for $255,000.
2-bedroom with bunk room
1-1204 sold for $360,000 in July 2016.
1-2106 sold for $332,000 in July 2016. This was an unfurnished foreclosure.
1-1908 sold for $370,000 in August 2016.
1-2302 sold for $455,000 in September 2016. This condo was professionally remodeled. New tile throughout, Remodeled kitchen (New kitchen granite, backsplash, appliances). Remodeled Bathrooms (New tiled out showers, new vanities). The whole condo was decorated and it felt great when you walked into it. This condo also had a dedicated parking spot. These have been recently selling for more than 30k.
2-bedroom end units
2-2201 sold in April 2016 for $375,000
1-2101 sold in June 2016 for $419,000
3-bedroom
1-1201 sold in February 2016 for $488,000
2-709 sold in December 2015 for $524,000
2-1409 sold in November 2015 for $495,000
Here is a list of the Calypso condominiums currently for sale.
Pricing expectations moving forward
We have seemed to reach a price point for several floor plans where a number of preconstruction owners are willing to sell. While buyer demand remains strong, many floor plans have more than six months of inventory for sale at current pricing levels. The average sale price continues to slowly increase, but inventory has been a strong head wind for several years. Things like tile, floor level, furnishings, and especially dedicated parking spaces are still commanding higher sales prices. Calypso is still one of only a few condominiums that are leading in the Panama City Beach condo market recovery.
Are you an owner at Calypso who would like to be notified when we update this sales report?
We update this sales report every couple of months. If you are an owner and would like an email reminder when we update this report, just send us an email to be added to the list. You can reach me at This email address is being protected from spambots. You need JavaScript enabled to view it..
Tags: Calypso Condominium, Individual condo sales histories
People in this conversation