August 2020 Market Update
Condo pricing is 1.9% lower for the year. Even with Covid, the condo market is holding its own. A decade of strict lending requirements created a market of financially sound owners. Panama City Beach will navigate 2020 with ease, but don't expect average values to be significantly higher this year.
Panama City Beach Condo Sales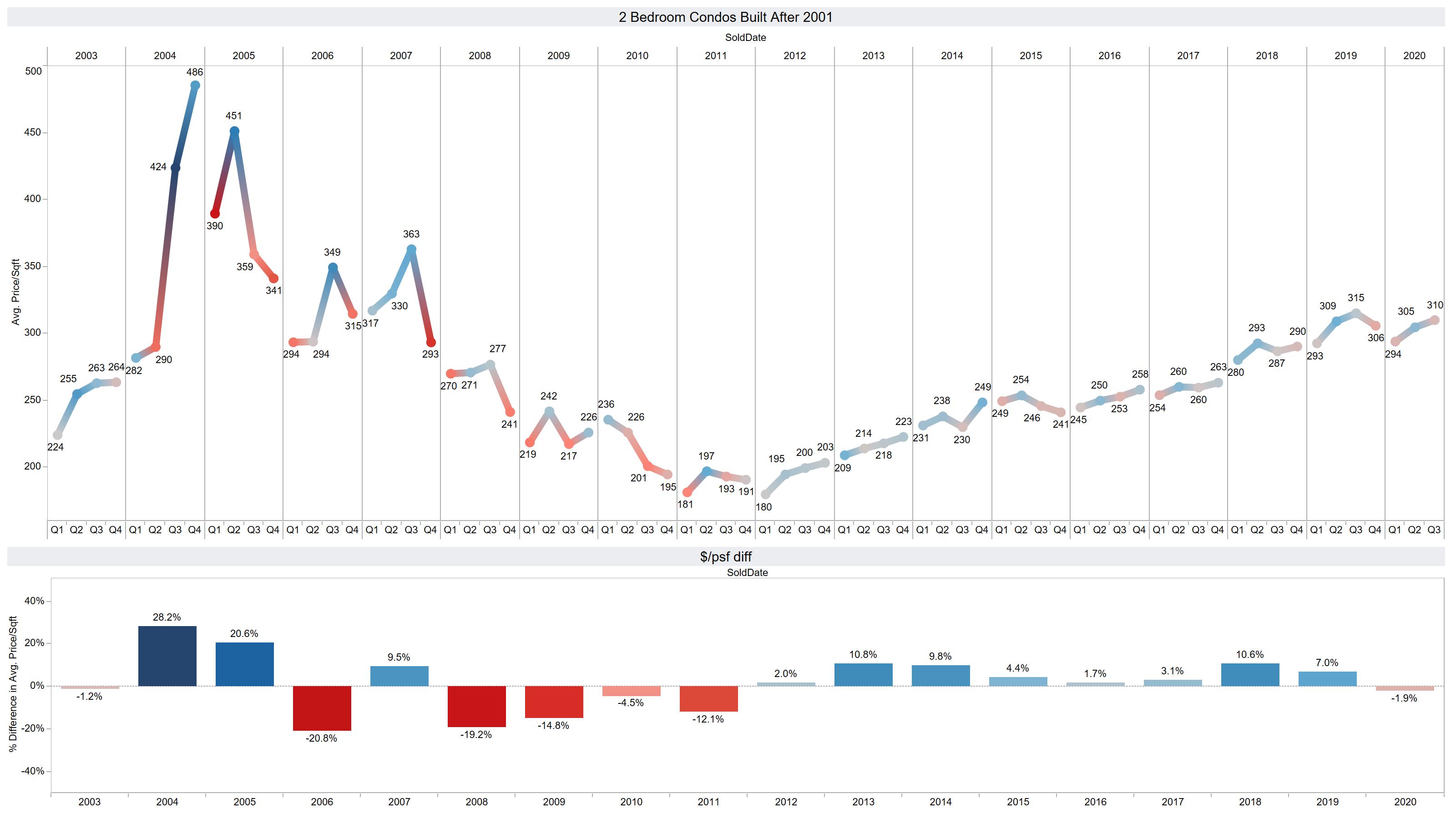 On average we are down 1.9%. Some buildings you can purchase a condo for less than the same floor plan in 2019, but there is a reason for it. The pricing often reflects what is going on in the building, or the unit condition. The one thing we are not seeing is signs of distressed sellers.
Condo Sales Volume

Sales Volumes are down 6% this year compared to the same period last year. April and May clearly demonstrate the impact Covid has had on our market this year.
Selected Condominiums
Sales Prices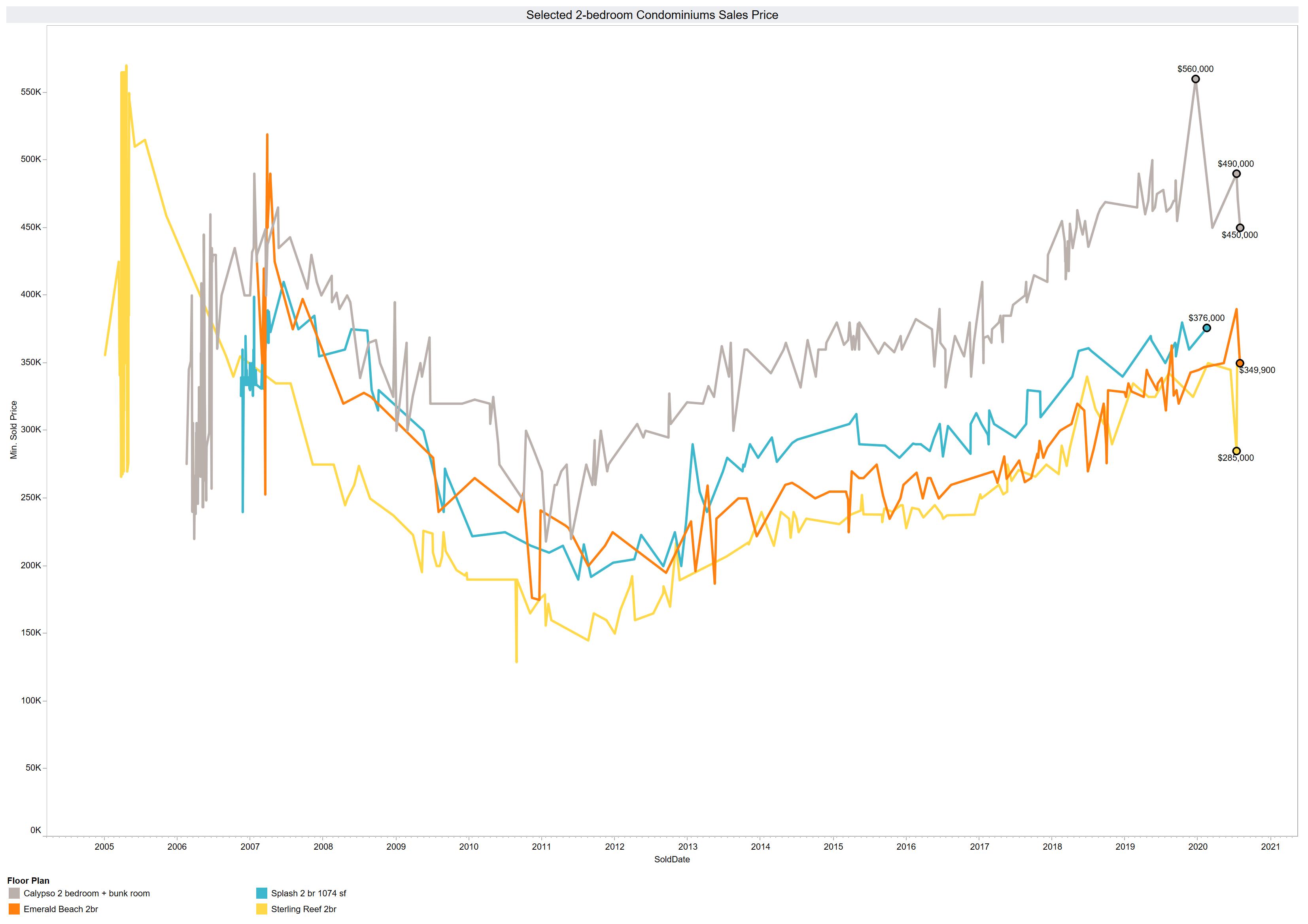 Calypso has been flat since 2019. The $560,000 sale came with a dedicated parking space (35-40k), had nice tile floors, and was nicely decorated. The ones selling close to 500k tend to be tiled and decorated nicely. The ones closer to 450k tend to need some upgrades and decorating.
While the average price of all 2-bedroom condos gives a good overview of the market annually, this graph can give you a better feel for what pricing is doing.
Price Per Square Foot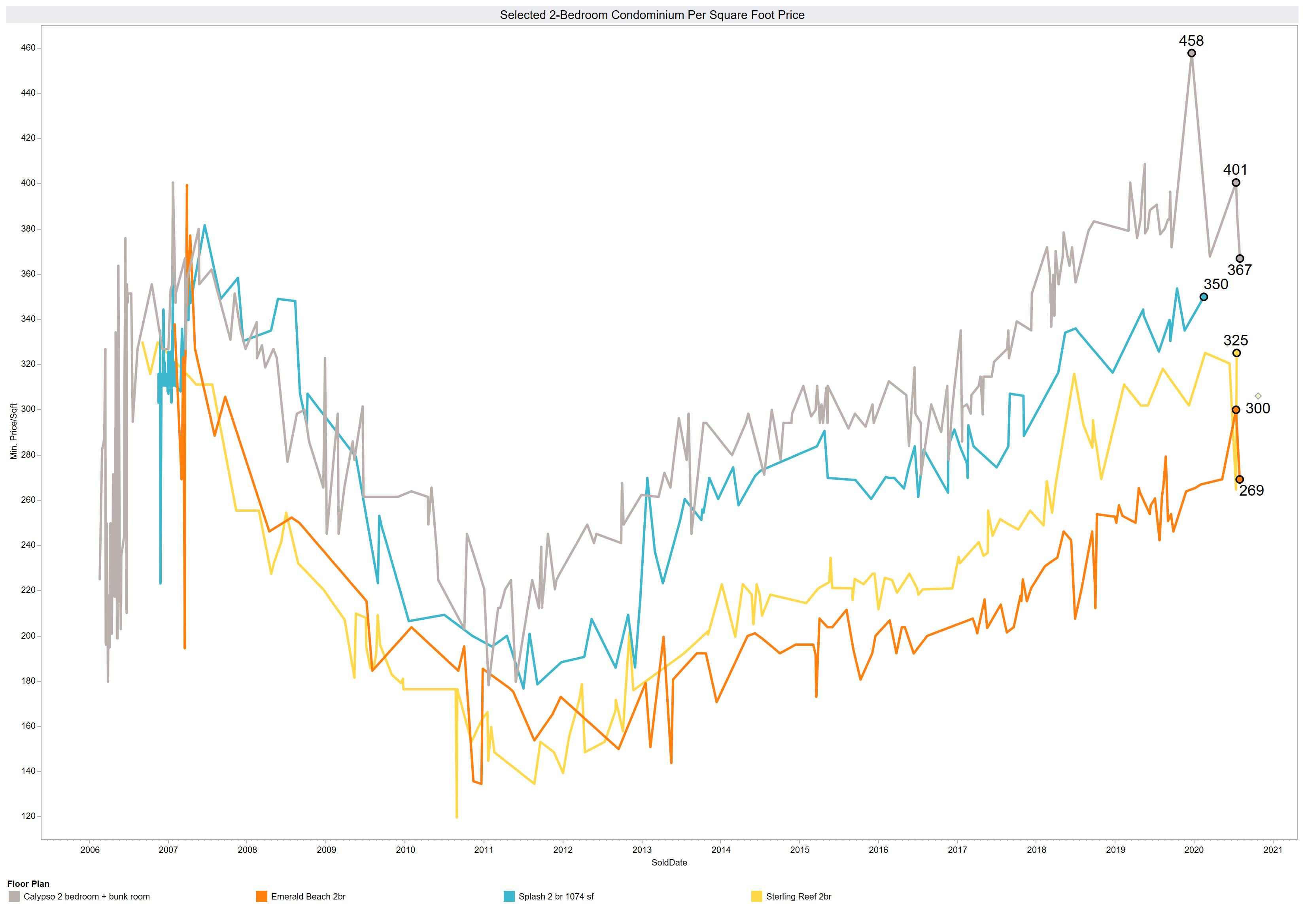 Calypso Is Up 2.4%

Splash Is Up 3%

Sterling Reef Is Up 0.6%

Emerald Beach Is Up 6.5%

Shores of Panama is down 9.4%

Factors Driving The Pricing of Panama City Beach Condos for Sale
Strict Condo Lending Requirements
Most condos require portfolio loans with 20% down. Interest rates are currently around 4 ¾ percent. There are a few condos that qualify for a Freddie Mac 10% down program. The interest rate has been hanging around 3 1/8.
Panama City Beach Condos that currently qualify for 10% down Freddie Mac Financing
Celadon
En Soleil
Grand Panama
Sterling Beach
Sunrise Beach
Tidewater
Trade Winds
Watercrest
Ocean Villa
Some condos are jumping in and out of this list. For details on what the Freddie Mac requirements are supposed to be, please refer back to my November 2019 Panama City Beach condo sales update.
Preconstruction isn't adding gulf front condo supply anytime soon
St Joe has been executing on a sound vision for Panama City Beach over the past 20 years.
Panama City Beach real estate, Panama City Beach condos for sale, Real Estate Market Updates, Calypso Condominium
Created on .
Last updated on .
Hits: 11105