November 2019 Market Update
Following an increase of 10% in 2018, we are already up by 6.9% in 2019. Compared to the same period last year, the sales volume is down by 21%, but still higher than we expected. Since 2011, we have been able to see a healthy balance with our sales volume performance. I am not seeing any signs of what would be considered as a 'real' pre-construction supply. As such, sales price increases and a steady volume all reflect the fact that Panama City Beach is continuing to improve, mature, and grow as a vacation destination.
Panama City Beach Condo Sales
We also have the Shores of Panama Auction taking place in December. This should add some volume we were not expecting at prices significantly below the average 2-bedroom per square foot price. Shores of Panama has sold at prices well below market averages for years. You can dig further into this in these two recent blog articles:
Condo Sales Volume

Sales Volumes are exceeding my expectations for the year. I was expecting to see volumes similar to 2014-2016. We are down 21% for the same period last year which should end up with around 550 condos selling for the year. We continue to have a very healthy condo sales market in Panama City Beach.
Selected Condominiums
Sales Prices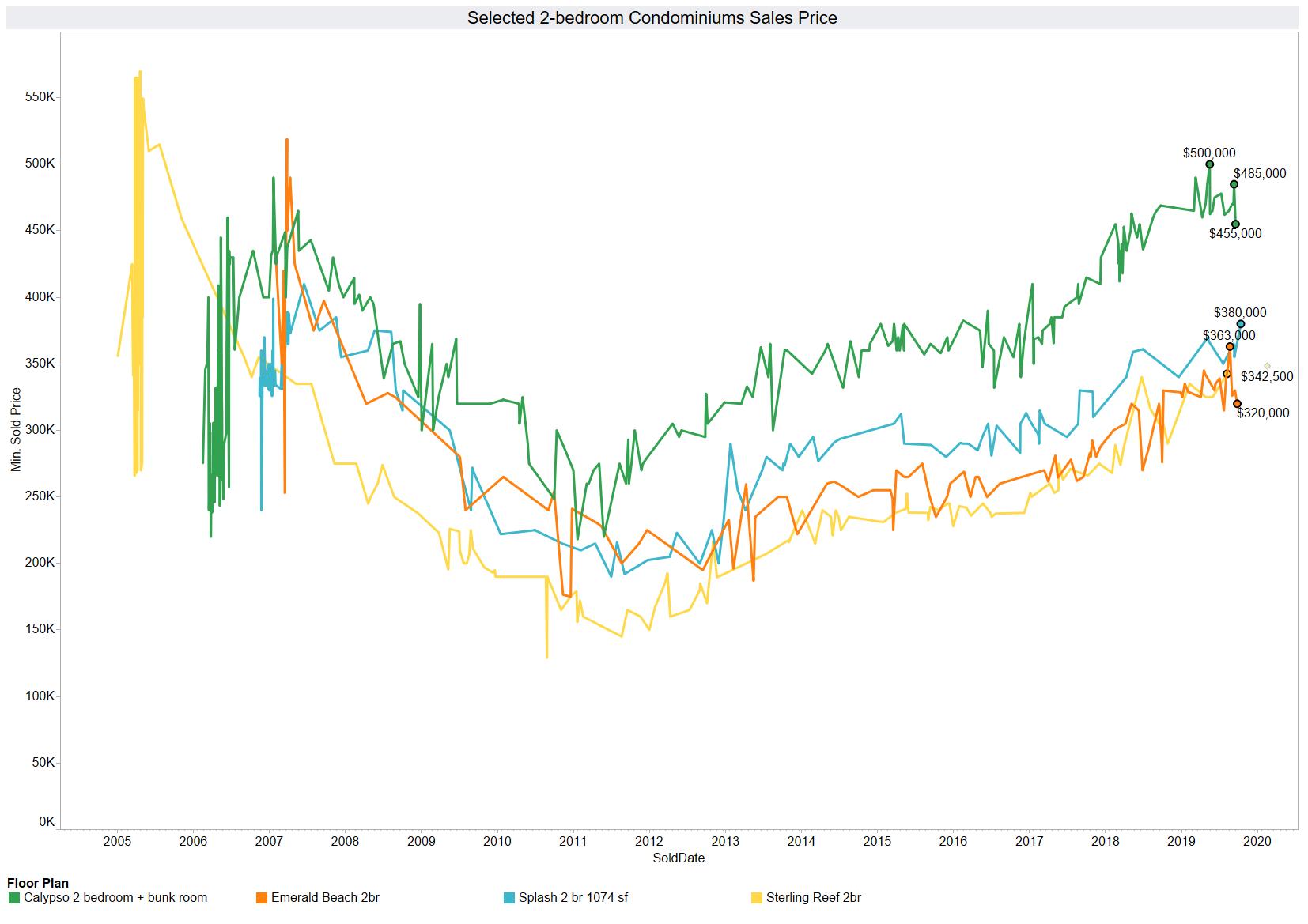 Price Per Square Foot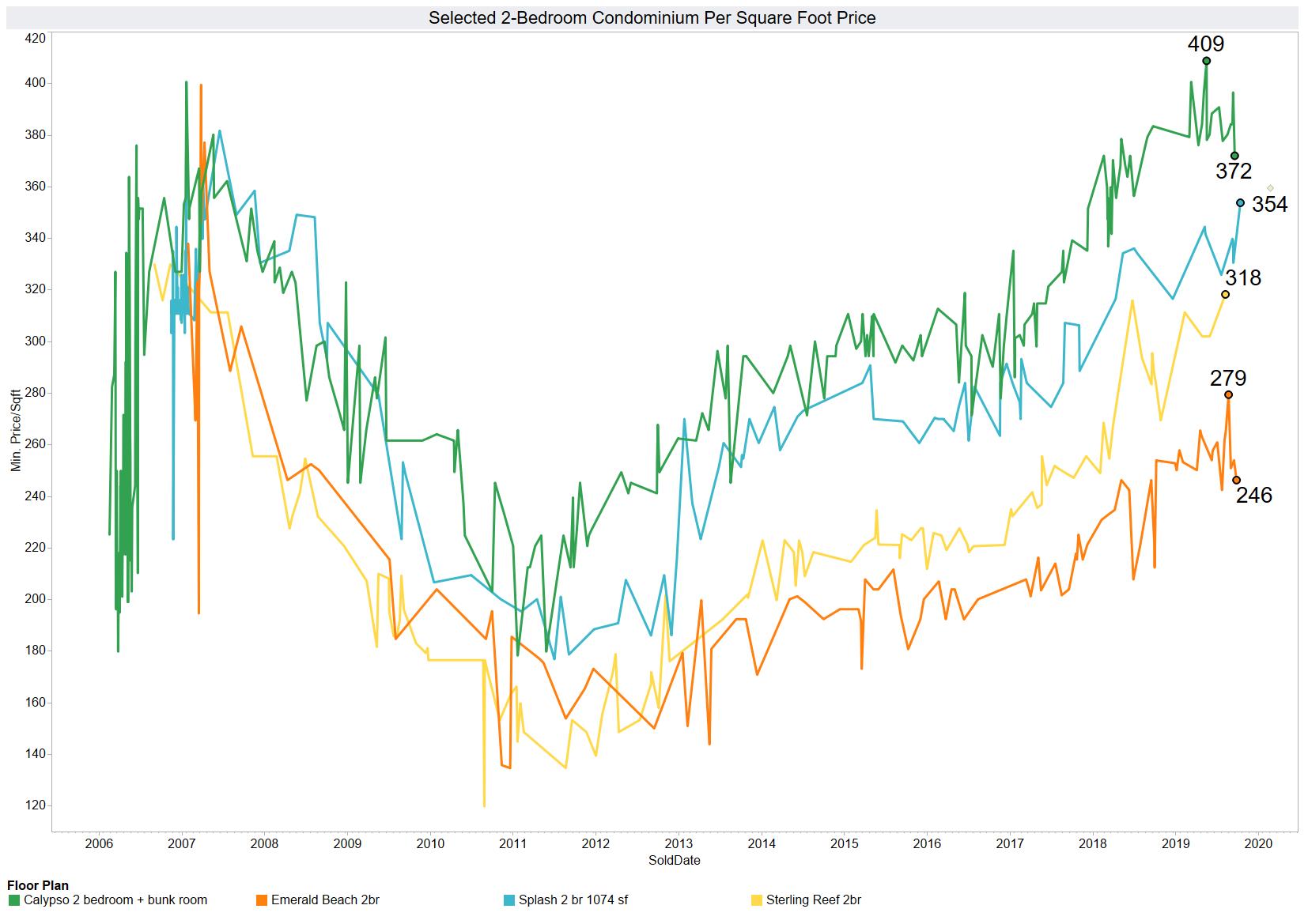 This graph gives a clean representation of what the different buildings are selling for. Calypso leads the market with a recent sale at $409 PSF. Many other buildings bring significantly less per square foot, but are still seeing increases. Pricing needs to push 10% higher before we start to see our next round of preconstruction condo sales on the West side of Panama City Beach. Thomas Drive has beautiful 2-bedroom condos at Sterling Beach and Princess asking $340 per-square-foot. The idea that a preconstruction project on Thomas Drive is going to sell out a building at 450 – 500 per-square-foot any time soon is very optimistic, and perhaps somewhat unrealistic. We are still early, but clearly closer than we were in 2017 when we were seeing many Preconstruction News Stories. I will have another preconstruction update soon.
Calypso Is Up 6.4%

Splash Is Up 4%

Sterling Reef Is Up 10.5%

Emerald Beach Is Up 10.5%

Condo Lending Starting to Loosen Up
Lenders are slowly adding Condominiums that Freddie Mac is providing 10% down financing
The secondary market for condo loans is slowly opening up. This is the very beginning of this process. Freddie Mac is the first secondary market banks can sell their loans to. Since the Financial crisis of 2007–2008 most condo loans were kept on the books of the bank that provided the mortgage. Almost all of these had a 20% down loan requirement. This is the first time since financial crisis a sizable secondary market has opened with 10% down.
Freddie Mac Current Condominium Lending Requirements For 10% Down Loans for Second homes and Investment Properties
Condo must have more than 10% of the association's annual budget in reserves
Condo Association Budget must not receive revenue from a rental desk
The entire condominium project and any master association must be complete and not subject to any additional phasing
At least 75% of the total units in the project have been conveyed to the unit purchasers
Any Litigation must not be expected to exceed 10% of the annual Condominium Association Budget
Panama City Beach Condos that currently qualify for 10% down Freddie Mac Financing
Celadon
En Soleil
Grand Panama
Ocean Villa
Palazzo
Sterling Beach
Sunrise Beach
Tidewater
Watercrest
This is the Beginning. This is not a repeat of 2007-2008, yet.
Before the financial crisis there were a number of secondary markets open to banks lending on Panama City Beach Condos. Banks could take the loans on condos and resell them. Lending requirements were minimal. You could:
state your income without providing documentation
own as many condos as you wanted
there were easy workarounds for Debt-to-Income requirements
get a loan with 0% down
We are nowhere near that. Everyone still needs to meet Debt-to-Income requirements, document their credit worthiness, and meet a host of other criteria. In short, the speculators will still not be able to enter the market as Freddie Mac starts expanding its 10% down lending requirements.
If a secondary market shows up that provides a workaround to the Debt-to-Income requirement, 0% down, or easy access to cash out refinancing; that would change things. That is when everyone should stand up and start paying attention. That would likely set us up for our next financial crisis in the years that follow.
Condo Flipping in Panama City Beach
Condo flipping in Panama City Beach is virtually nonexistent. This is mainly because the lending standards are so strict. But we are seeing several condo owners sell the same condos they purchased within 12-18 months. I often whitenes buyers purchasing condos with false expectations. They are given rental expectations that are complete fiction. Other times they realize another building in the area is a much better fit for them. These same buyers end up selling the same condos and often purchase in another condo in Panama City Beach. Finding an agent who truly understands condos in Panama City Beach will save you a lot of time, money, and silliness.
Don't Trust Rental Projections
Please also be weary of rental projections. 95% of all rental projections I see are a complete fantasy. The best way to evaluate a condos rental potential is to see a complete annual rental history for that unit. Make sure they show the gross and net rentals to the owner. Many rental management companies fight tooth and nail to avoid this. Make sure you are getting real numbers. If the condo you are looking at doesn't have a rental history, find an identical floorplan in the same building. This is another good way to evaluate rental management companies.
Splash Condominium, Panama City Beach real estate, Panama City Beach condos for sale, Real Estate Market Updates, Calypso Condominium
Created on .
Last updated on .
Hits: 7228