Dunes of Panama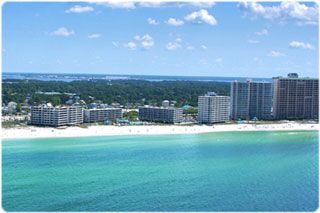 The Dunes of Panama is a resort-style condominium community made up of six independent building associations. The original five buildings are easily identifiable with lettered designations. These are The Dunes of Panama A, B, C, D and E, constructed between 1974 and 1985. Construction on the sixth building, Hidden Dunes, completed in 2001.
Despite the organization of individual building associations, all residents share use of The Dunes extensive amenities in the Recreational Area, which is part of more than 1500 feet of lovely gulf-front property. The classic construction of these condominiums allows benefits that newer buildings do not have.
Condos for Sale
2 bedroom condos 3 bedroom condos
There is plenty of space, and many floor plans give you a clear, unobstructed view all the way down the beach. There is ample room for boats and motor homes as well as plenty of general parking space. The Dunes is one of few condo communities that offers deeded, covered parking in addition to its plentiful general parking.
Floor Plans
Site Map
Amenities
The Dunes of Panama is a secure, gated community with numerous options for on-site activities as well as plenty of space to relax. Three gulf-front pools are available for your use, and one is heated between November and May. Other sports are available on our tennis courts and at the basketball hoops north of building B. Additionally, building E features a fully equipped fitness room.
There is also easy access to lunch and snacks at Suds Weezers Deli and Souvenir Shop in building E. This family-operated business is open during seasonal hours and offers a variety of food and drink choices, including pizza, deli sandwiches, snacks, ice cream, smoothies and more. Beer and wine are also available as are convenience items for you and gifts for friends or family.
Buildings
Building A
Construction on The Dunes of Panama A, a seven-story building, began in 1974. The V-shape of this building provides a clear view of the water from every two- or three-bedroom condo. There are 56 condos located on floors one through six. Units numbered one through five on each floor enjoy a southwest view while units six through nine enjoy a southeast view. The balcony of each two-bedroom condo spans half the width of the unit; this is smaller than balconies on two-bedroom units in other Dunes buildings.
The ground level, beneath the condo floors, contains 29 covered, individually deeded parking spaces, each with its own storage area. This is highly convenient for keeping beach or boat items, saving you the trouble of carrying them to and from your condo. Some commercial, ground-level space accommodates administrative needs.
Building B
In 1979, construction began on The Dunes of Panama B. This six-story structure, which sits behind the three gulf-front pools, has 40 condos located on floors one through five. They are mostly two-bedroom units with one one-bedroom floor plan located on the first floor. The ground floor contains 22 individually deeded, covered parking places as well as 27 private storage units for your convenience. The two-bedroom floor plan in building B is similar to the equivalent plan in building A; however, balconies extend across the full width of building B units, providing an increase of more than 100 square feet.
Building C
Construction for The Dunes of Panama C broke ground in 1980. Located east of the pools, this seven-story building houses 35 condos on floors one through six. These condos are mostly two-bedroom units, but there are also southern end units with three bedrooms. The southwest orientation of this building provides both pool and gulf views, yet the further south your unit, the better the view along the beachfront. The ground floor contains 16 covered parking spaces that are individually deeded as well as space for commercial and administrative use.
Building D
Construction on The Dunes of Panama D broke ground in 1982. This is a 13-story facility with 72 condos, six each on floors one through 12. Building D is set back a bit from the water with a slight southeast orientation. The gulf-front location gives every unit a view, but the three-bedroom units on the west side of the building enjoy spectacular, unobstructed panoramas all along the beach. The 21 covered parking spaces on the ground floor, located beneath the condo levels, are deeded to individual owners.
Building E
In 1985, construction began on The Dunes of Panama E. This 21-story building looks directly over the gulf and contains 120 condos, six each on floors one through 20; the 13th floor is omitted. The ground floor contains commercial space, which includes the deli and market as well as the fitness room. Parking for building E is located in a two-story garage. While the top level is open and uncovered, the bottom level holds 74 covered spaces that are deeded to individual owners.
Location
Related information
Front Desk
There are two onsite rental desks in the Dunes of Panama condominium complex.
One is in the A building
http://www.dunesofpcbeach.com/
One is in the C building
One is located in the Hidden Dunes condominium
There is also a onsite desk at Hidden Dunes