2015 Year in Review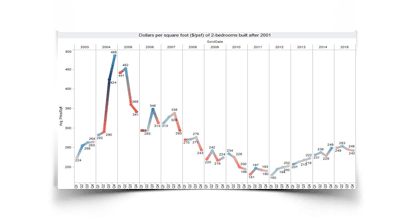 In 2015, we saw the prices of condominiums increase for the fourth consecutive year. Even as prices rose, sales volumes remained strong. The vast number of sales were condos built since 2000, but there was a continued increase in annual sales volumes for older units because of the price increases on newer condos.
We noticed over the year that most of the condos that sold have floor plans that bring a lower price per square foot. For instance, a two-bedroom floor plan in which the bedrooms are not located on the water will sell for considerably less than a two-bedroom floor plan in which the master bedroom is positioned on the water. Below are several graphs that demonstrate the trend that we are seeing.
Condo Sales Price History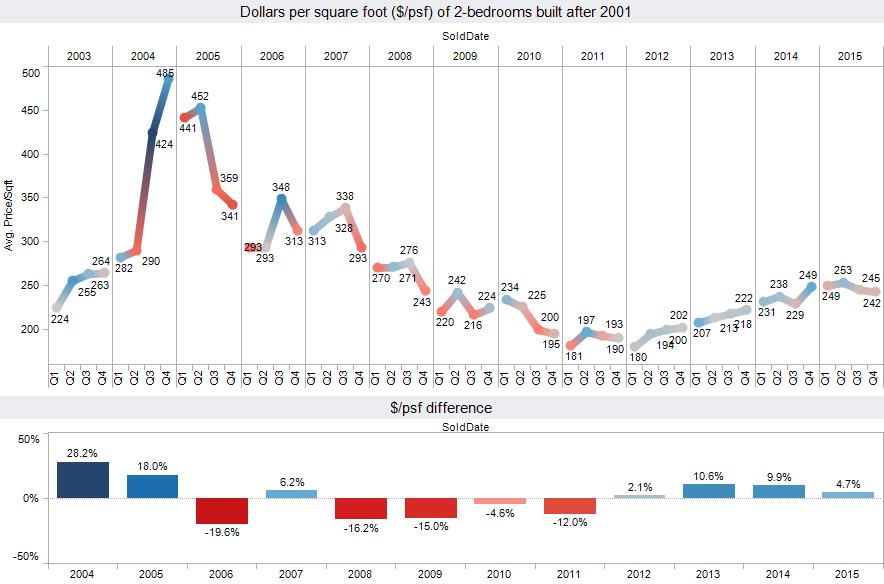 Gulf-front condominium prices were up 4.7 percent in 2015 compared to 2014. This is less than half of the 10 percent increase in 2014 compared to 2013. What is interesting is that you see very different things when you look at individual buildings and floor plans.
Price Changes Do not Always Follow Nice Neat Lines
Calypso One-Bedroom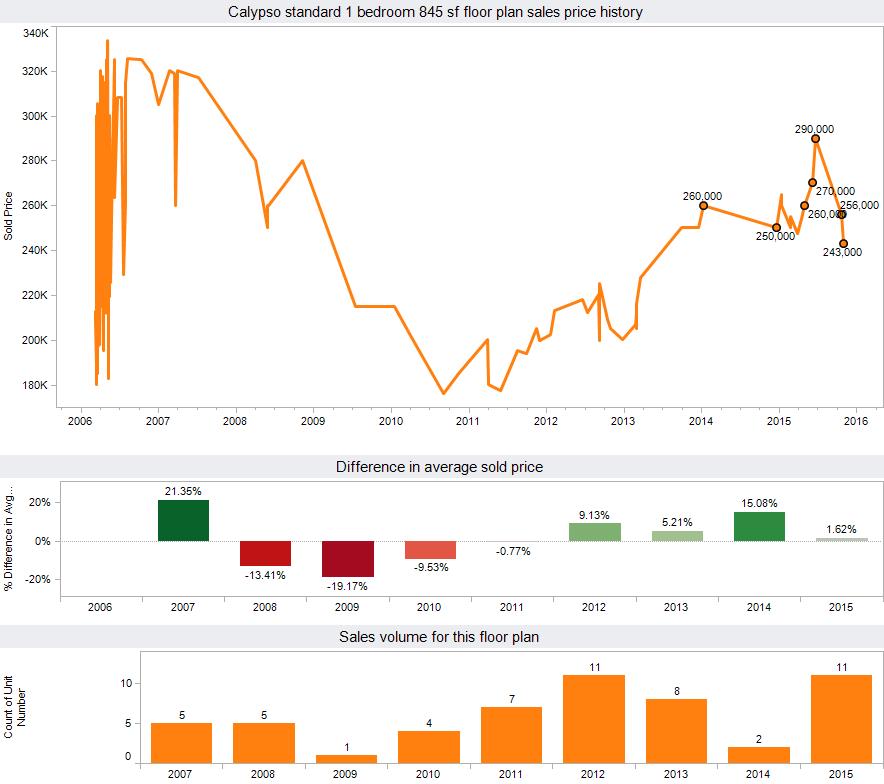 Not all buildings and floor plans appreciate at an even pace. In early 2014, Calypso one-bedroom condominiums led the market for one-bedroom condos in Panama City Beach. These were the first one-bedroom condos to sell in the mid-200s. However, sellers wanted higher prices for the floor plan, and buyers weren't interested in paying more at the time. We went 11 months before a seller and buyer could agree on a $250,000 sale price, which was $10,000 less than the previous sale. What followed was several sales that ranged between $243,000 and $290,000.
Identical floor plans can be very different. The $290,000 sale, for example, was located on the seventh floor and had nice furnishings and phenomenal tile. The $243,000 sale was located on a higher floor, and the buyers were unlikely to keep the furnishings.
Very Common Two-Bedroom Floor Plan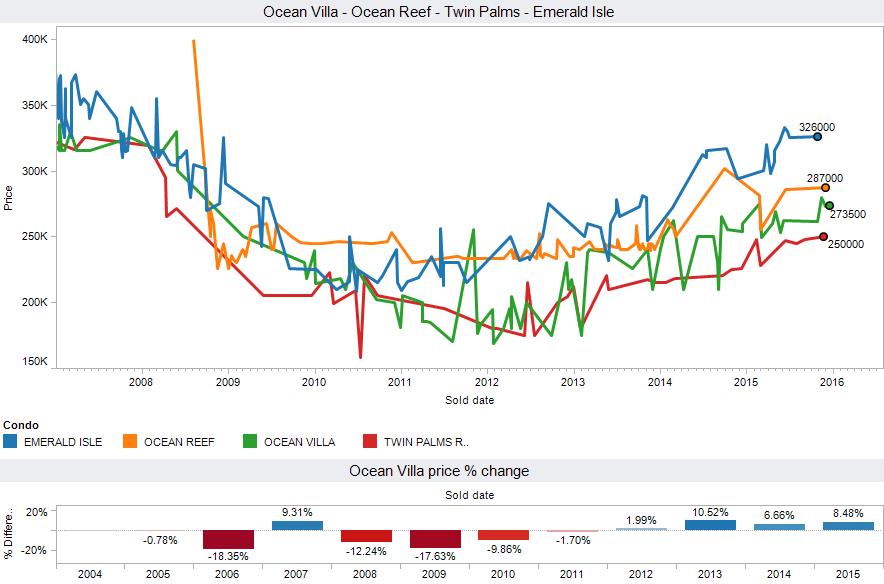 A great example of the overall condominium market is a comparison between the Emerald Isle, Ocean Reef, Ocean Villa and Twin Palms locations. The same developer constructed all of the buildings with the same floor plan. Although the amenities and locations of the buildings vary, the price appreciation for each one has continued to increase steadily since 2012. In 2014, Ocean Villa prices rose 6.6 percent. The prices increased another 8.48 percent in 2015.
Sales Volume for Panama City Beach Condos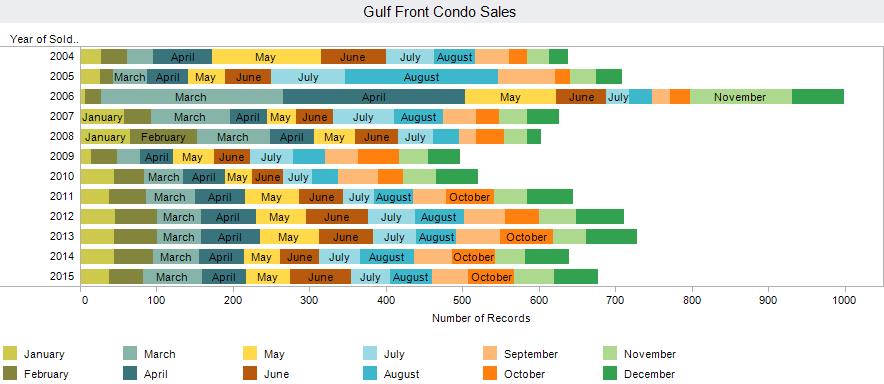 Annual Sales Volume Comparison of Condos Built Before vs. After 2000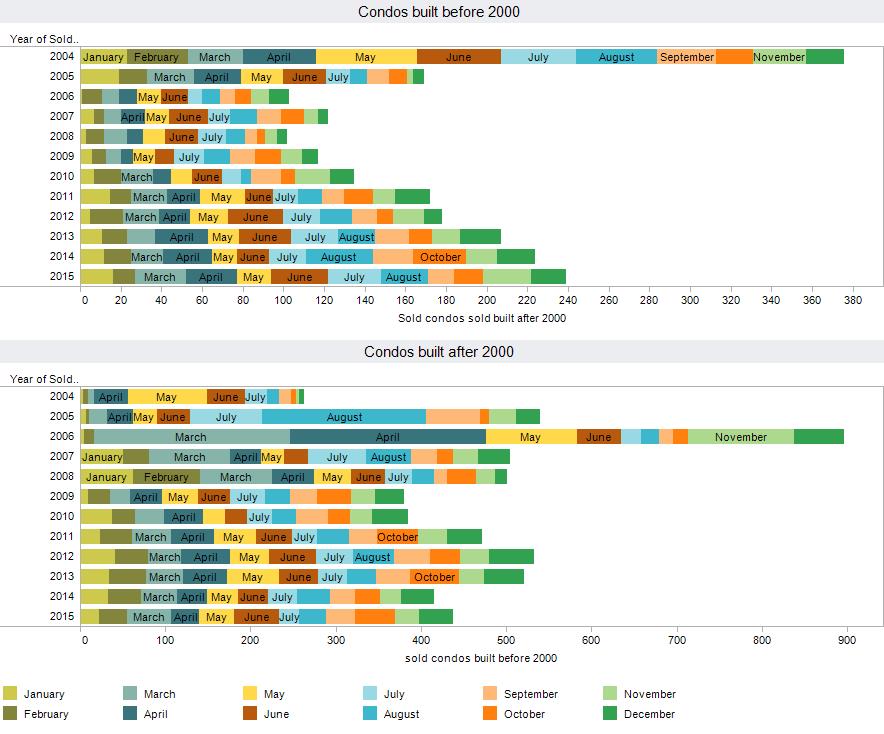 Condominiums constructed before 2000 have seen an increase in sales volumes for the seventh consecutive year. Condos built after that beat 2014 sales volumes by 5.5 percent. This is a key indicator because another significant fall in sales volumes in 2015 could have tested sales volumes for 2009 and 2010. The increase, however, is one of several signs that the market is healthy.
What This Means for Buyers and Sellers
Buyers can continue to expect higher prices for most buildings and floor plans as time goes by. Each building and floor plan will have its own absorption rate, demand and supply. Although you can see price differences fluctuate up to 10 percent in the same month for a certain floor plan, this is usually warranted because of the condition of the condo, floor level, furniture, view and upgrades.
The Panama City Beach condominium market has found its natural absorption rate. You can look back at the price history for any particular building and floor plan to get a very good idea of what to expect in the coming year.
There are two main questions sellers should ask themselves this year:
How long it will take for buyers to pay the price you are looking for?
Are you willing to wait that amount of time?
How much (if anything) is that amount of time going to cost you in expenses?
Panama City Beach real estate, Panama City Beach condos for sale, Ocean Villa, Real Estate Market Updates, Calypso Condominium
Created on .
Last updated on .
Hits: 7447
People in this conversation