Ocean Villa sales history
Looking at the entire sales history of Ocean Villa, I compared the two bedrooms there with four other buildings that were constructed by the same developer and had identical floor plans. The graphs show a comparison of recent sales, the entire history, sales volume, and annual percentage change. Condos on the west side of the beach tend to demand a slight premium to those located in central Panama City Beach.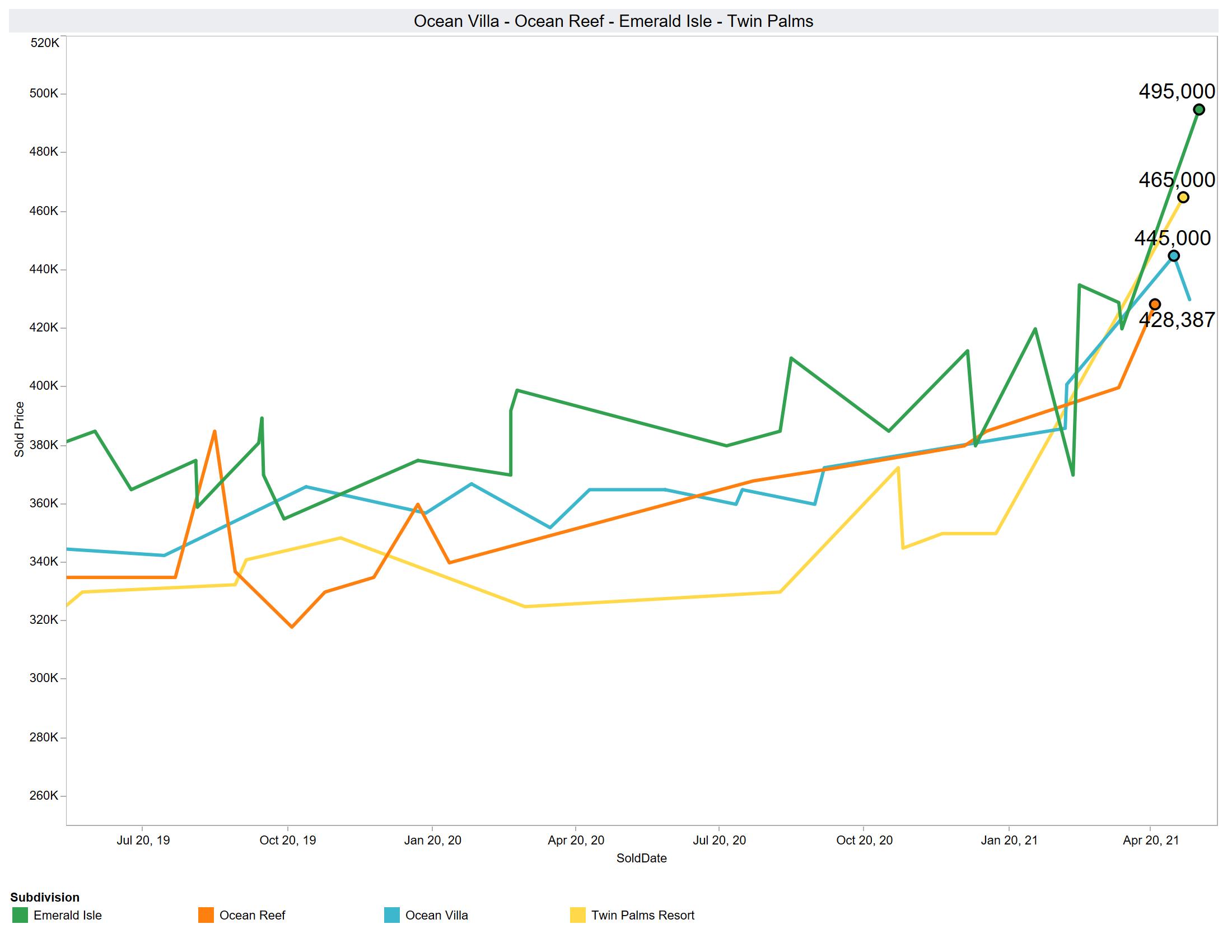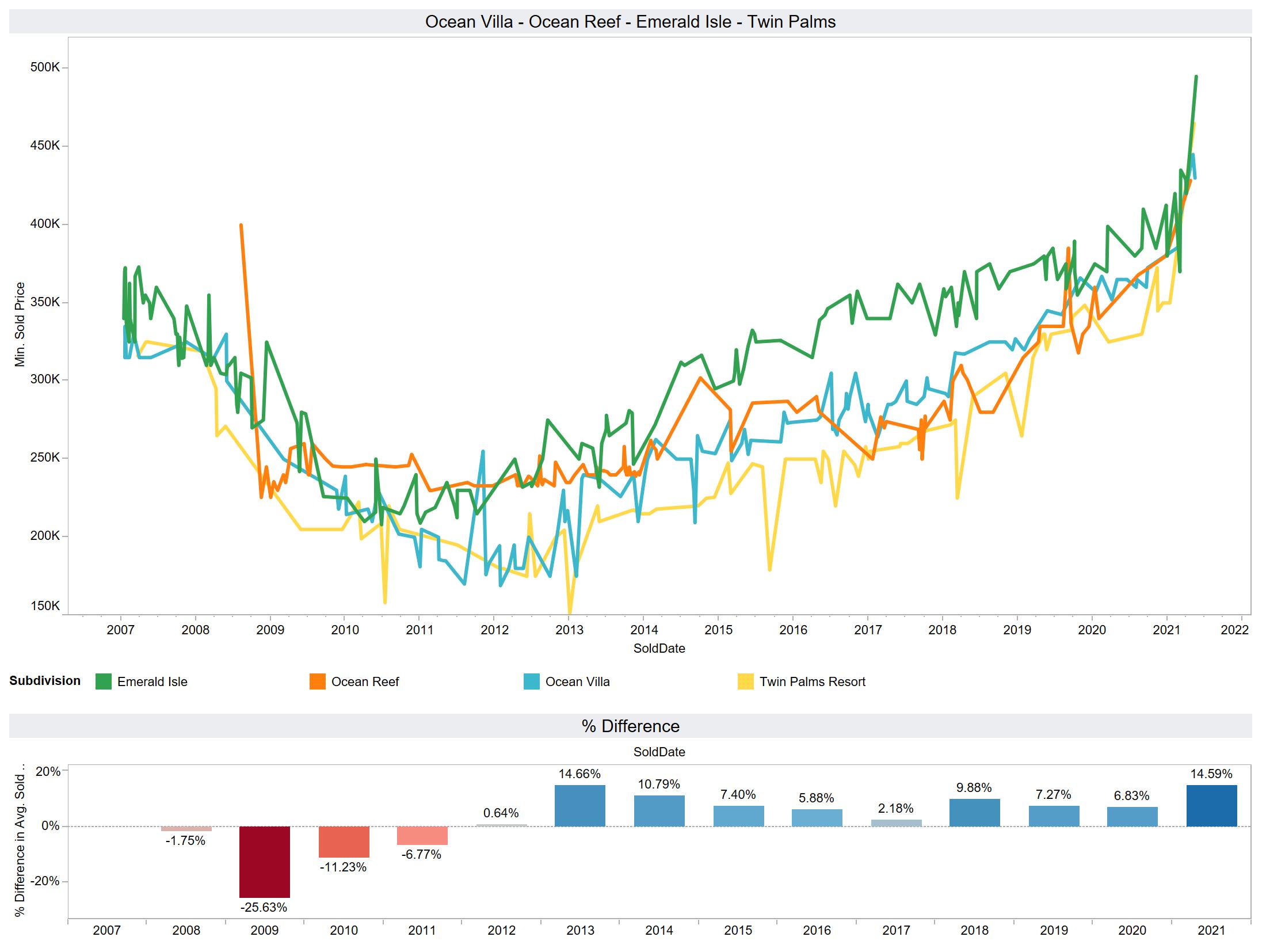 Ocean Villa recent sales
Updated 5-25-21: Just updated the graphs
Updated 6-13-19: Our last three sales were unit 2002 for $345,000, 1503 for $330,000, and 802 which sold for $345,000 unfurnished. Here are the Ocean Villa condos currently for sale.
Pricing expectations going forward
Ocean Villa is done with its distressed inventory. There are no condos currently under contract and one condo on the 21st floor is active. Pricing is continuing to slowly push higher. It is worth mentioning that buyers will continue to pay more for units with upgraded tile and nice furnishings.
Recent pictures taken
Click on any image below to enlarge.
Prior updates
Updated 1-11-19: Our last two sales were unit 1102 & 1803
Updated 3-4-18: Our last two sales were unit 1701 & 2204.
2204 sold for $290,000. It had diagonal tile through the entire condo and decent furnishings. 1701 recently sold for $318,000. This condo had very nice tile throughout the condo, stainless steel appliances, and felt great as you walked through it.
Updated 9-13-17: Our last three sales were unit 1204, 1705, and 1701. They sold between 285k and 300k.
Updated 5-02-17: Our last four sales were unit 2005, 305, and 1804. They sold between 264k and 285k.
Updated 9-06-16: Our last four sales were unit 702, 1003, 1004, and 1901. They sold between 269k and 275k. Ocean Villa 1701 sold just before the others, but was different. There were many upgrades including tile throughout the entire condo, stainless steel appliances, tiled kitchen backsplash, and the bathrooms were completely remodeled. The owners did not cut any corners and the condo felt great when you walked through it. The upgrades and the seller financing brought a sales price of $305,000.
Updated 2-05-16: Our last sale was 302 on December 18, 2015. The price was $273,500. This condo was a mixed bag. There were stainless steel appliances and upgraded bathroom vanities, but the furniture was less than desirable. Lower floor units are often selling for higher prices than higher floor units with everything else being equal.
Updated 9-19-15: Our last sale was 1801 on June 4, 2015. This condo was in good shape and had nice furniture. This makes 7 sales for the year to date. July and August were quiet. Showing activity has picked up significantly in September and that usually precedes a condo going under contract.
Updated 6-2-15: We are now at 6 sales for the year, which is similar to last year. 1402 sold for $260,000 with very rough furniture. 1903 sold for $269,000 with an 18 inch tile through the kitchen and dining area. This condo also has nice furniture. 1302 sold for $253,000 with throw away furniture. Here are the Ocean Villa condos currently for sale.
Updated 4-12-15: Pricing moved up a bit in the first quarter of 2015 with 1501 selling for $275,000, 1804 selling for $263,750 and 1104 selling for $249,000. I was a bit surprised that 1104 didn't sell for more.
Updated 1-5-15: Not much has changed since my last update. Unit 401 sold for $260,000. It is worth mentioning that unit 401 was a non-rental and in great condition. The condition of 401 reminded me a lot of 2206. Unit 1701 as a nice clean unit with white wood furniture. It sold for $255,000.
Updated 9-29-14: The price fluctuations are primarily related to the condition of the condominiums that are being sold. The last foreclosure, 2203, sold at $230,000. 405, and 1502 sold at $250,000. 2206 had upgraded tile and was nicely furnished. It recently sold at $265,000. This was very similar to 602 which sold earlier in the year for $262,000.
Ocean Villa, Individual condo sales histories
Created on .
Last updated on .
Hits: 16277