Splash Condominium Sales History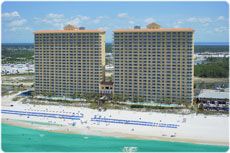 Here is a sales history of Splash Condominium in Panama City Beach, Florida. The graphs included are: The first outlines the complete history, and the second depicts Splash sales from 2009 to the present. The third shows the percentage difference from the prior year. Together, these graphs provide a clear picture of the price differentials over time.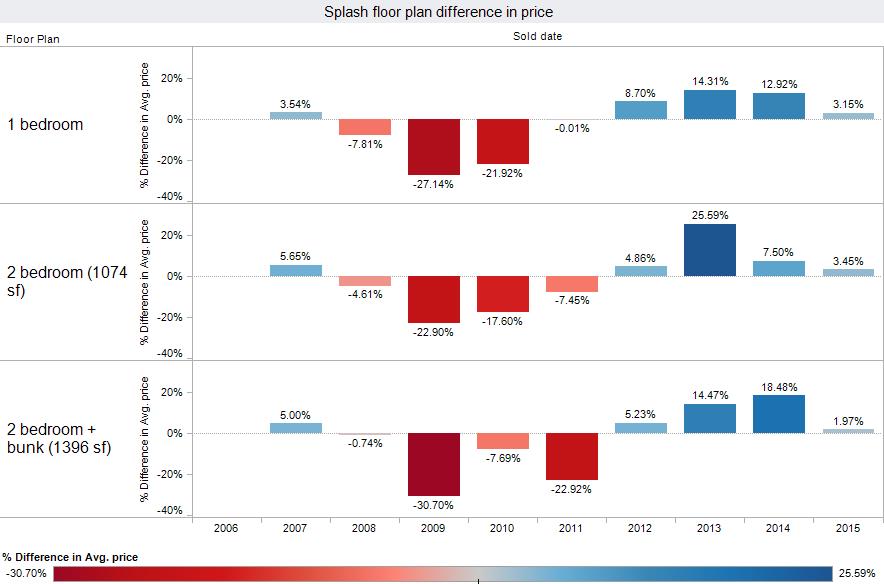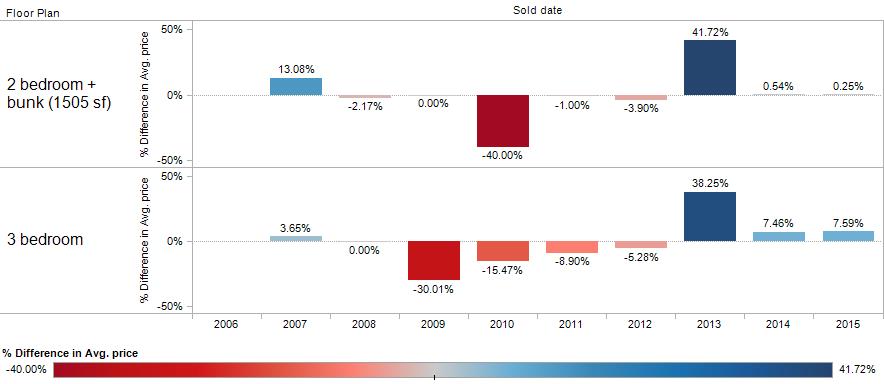 Splash condominium information and units currently for sale
We have a Splash condominium page that has pictures, floor plans, and a list of the current condos for sale. Splash condos for sale, floor plans, pictures and other info
Pricing History of the Splash condos for sale
Splash pricing started to fall after 2006 and bottomed between late 2010 and late 2012. However, in 2013, it began rebounding significantly. Nowadays, depending on the floor plan, Splash prices are 30% to 40% higher than they were at their lowest points.
Even though these price increases come as welcome news, most Splash condos are still selling for less than what their owners paid for them. Indeed, Splash's floor plans -- with the exception of the three-bedroom plan -- are currently valued at 20% to 40% less than their preconstruction sales prices. For its part, the three-bedroom plan has just reached its original price. In addition, those prices do not take into account the carrying costs that owners have incurred during the past eight years.
Preconstruction Contract Prices
In November 2006, Splash's preconstruction contract holders first began to close on their condos. This is the original price range these condominiums went under preconstruction contract for.
Floor Plan

Square Footage

Preconstruction Price

Paradise

3 bedroom 2 bath

1702 square feet
425-535k

Windsong

2 bedroom plus bunk area 2 bath end unit

1505 square feet
532-625k

Sandbar and Beachcomber

2 bedroom plus bunk area 2 bath

1319 & 1396 square feet
404-432k

Wave

2 bedroom 2 bath

1074 square feet
325-370k

Surfrider A & B

1 bedroom 2 bath plus bunk area

864 & 891 square feet
262-333k
Pricing Expectations Looking Forward
Updated October 1, 2015: Our sales this year, current asking prices, and the number of condos on the market suggest that pricing will remain flat for the next 6-12 months.
July 10, 2014: Splash condo pricing should keep rising. The supply of short sales is now almost nonexistent. Foreclosures are again being sold at fair market values. Splash prices should increase at least 10 percent annually over the course of the next few years. As prices continue to rise, our absorption rates are falling off. The past three months have there have been 40% less sales than the same period last year. We are getting back to a normal market where supply and demand are balanced.
Splash Condominium, Individual condo sales histories
Created on .
Last updated on .
Hits: 5642