condo remodel before and after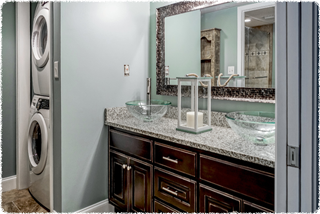 Long Beach condominium remodel
Buyers frequently purchase condos and engage in top-to-bottom remodels, but only rarely do you see a completed remodeling project that is truly impressive in scope and final results. Long Beach is one of the few condominiums in the area with a one-bedroom layout that has the master bedroom overlooking the waterfront instead of being buried at the back of the unit with no water views. The entire building has also recently undergone a complete restoration. This condo was purchased for $155,000 in January 2014, and the before and after photos shown here document the remarkable changes that have been made to this unit.
Resources for this remodel
Here is a list of the people that helped this buyer with this remodeling project.
Cabinets
The cabinets were made at Johnson's Cabinet Shop in Tallapoosa, GA.
Tile
The tile and showers were done by Strictly Business LLC owned by J.J. McDougall.
Granite
The granite was done by Rodrigo Mancilla at World Stone & Design.
Bathroom bowl sinks
Bathroom sinks were purchased at Home Depot.
Furniture
Furniture was purchased at Hank's Fine Furniture on 23rd street.
Paint
Paint was done by Tomas Bukszar.
Appliances
Appliances were purchased at The Appliance Center on West Oak St, Panama City.
Window Treatments
Draperies were purchased at Draperies to Go in Panama City Beach.
Electrical
The electrical was done by Lynn Conley in Panama City Beach.
Accessories
Most of the wall hanging came from Kirkland's Home on 23rd Street.
Shower Door
The glass shower door was done by Panama Glass.
Other contributors
Last, but certainly not least, the owners said they would like to thank Mike Griffin and Sal Albano at Long Beach Resort. They were a great help in putting the owners in touch with all the contractors that needed for this remodel. Mike and Sal have also been doing a great job managing the association during the Long Beach Restoration project.
Created on .
Last updated on .
Hits: 27947
People in this conversation