May 2019 Market Update
After a 10% increase in 2018, we are up 3% so far this year. Sales volume is down 40% compared to the same period last year. Preconstruction owners made up much of our inventory supply for years. This supply is quickly diminishing and returning us to sustainable sales volumes. Strict lending standards are keeping our condo market free from outside influences.
Panama City Beach Condo Sales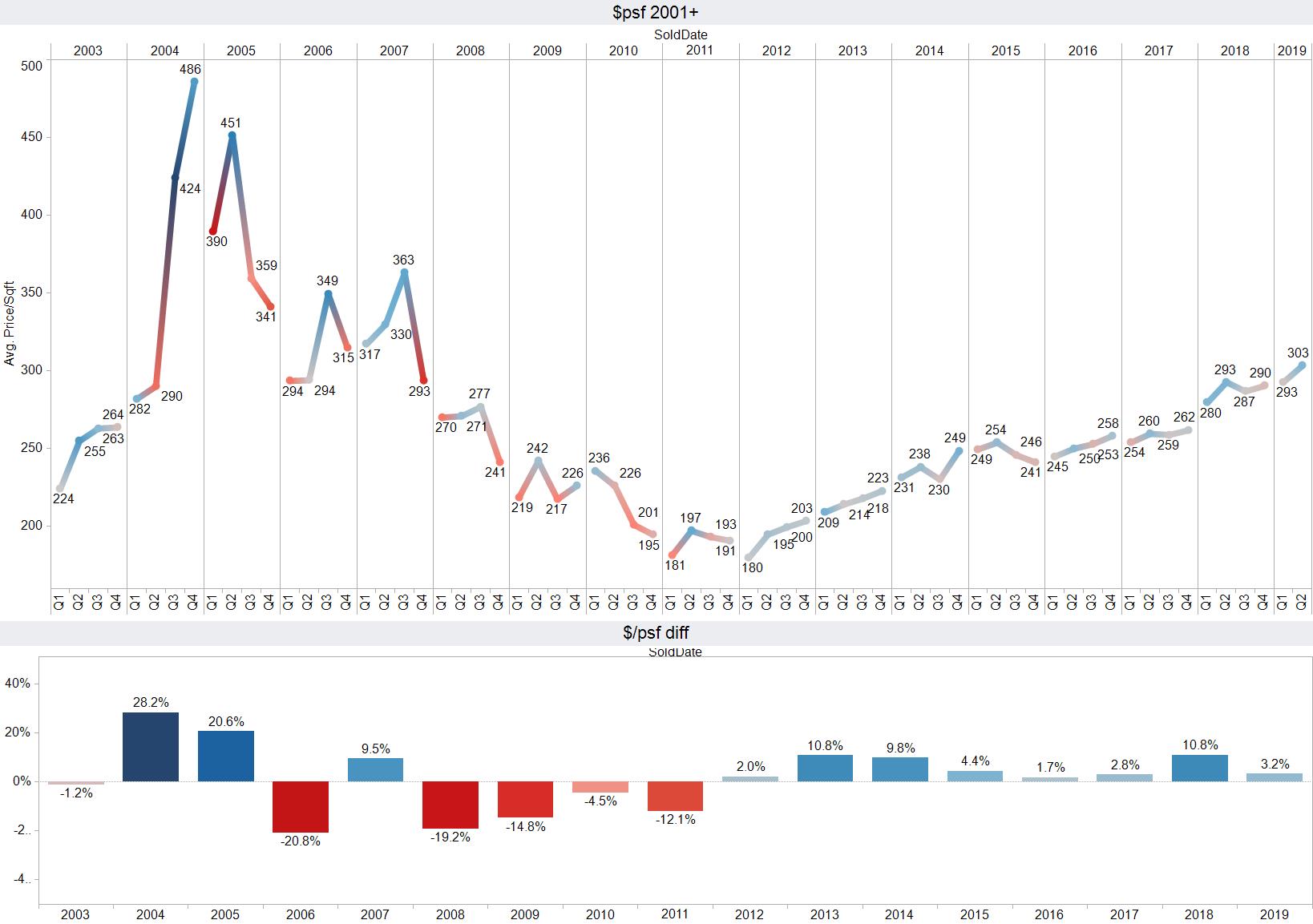 The overall market has continued to push higher for its eighth consecutive year. This trend is likely to continue until we see imbalances in supply and demand. Looking at the overall market provides a general pricing history. It does not show the disparity between different condos in Panama City Beach. As shown in later graphs, newer two-bedroom condos in Panama City Beach range from $264 PSF (Per Square Foot) to $401 PSF. Different floor plans are going to be ahead or behind of the overall market.
Condo Sales Volume

2014-2016 Panama City Beach condo sales had a normal absorption rate as prices reached $260 Per Square Foot. As prices moved higher, each individual building reached pricing where original preconstruction buyers were willing to sell. This provided the environment that allowed for 2-years of sales volumes 43% higher than the prior 3-years. Building by building, this supply is evaporating. Lack of supply will bring us back in line with 2015 and 2016 sales volumes.
Selected Condominiums Price Per Square Foot
Selected Condominium Sales Prices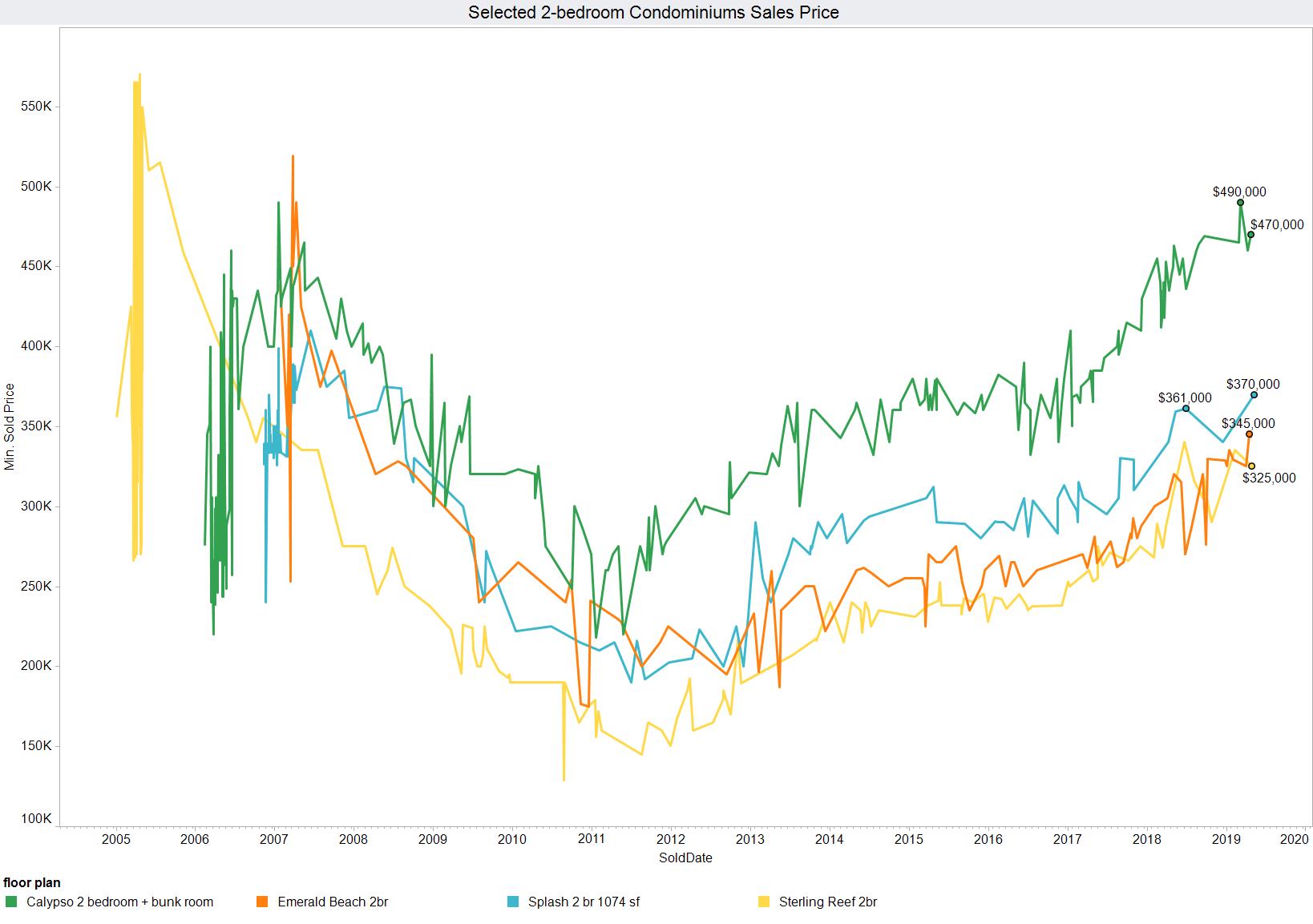 Selected Condominiums Price Per Square Foot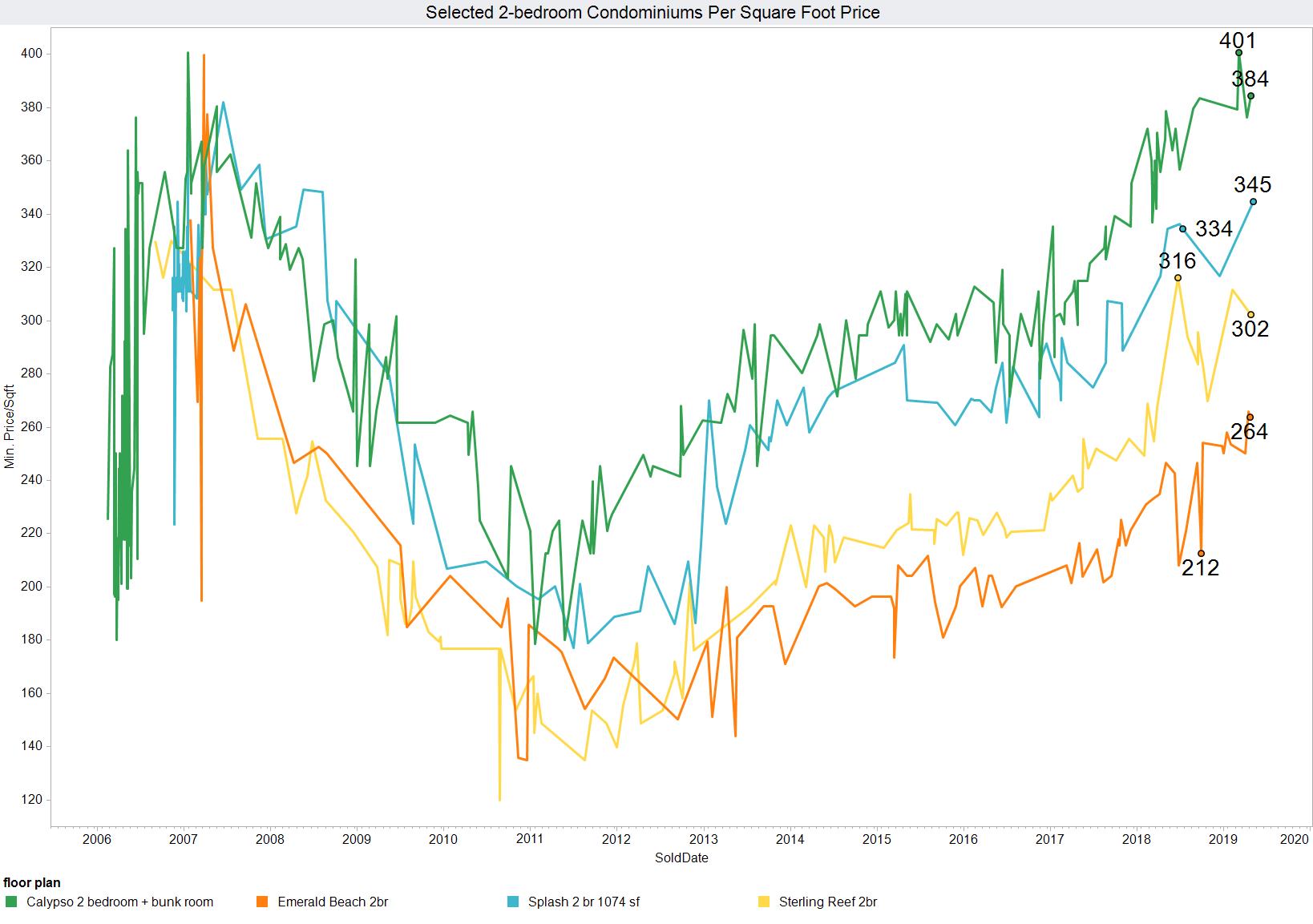 This graph gives a clean representation of what different buildings are selling for. Calypso leads the market with a recent sale at $401 PSF. Many other buildings bring significantly less per square foot, but still see increases. Pricing needs to push 10% higher before we start to see our next round of preconstruction condo sales. We are still early, but clearly closer than we were in 2017 when we were seeing many Preconstruction News Stories. I will have another preconstruction update soon.
Calypso Is Up 4.7%

Splash Is Up 5.2%

Sterling Reef Is Up 9.9%

Emerald Beach Is Up 10.3%

How Financing Can Influence The Panama City Beach Condo Market
Since the 2007–2009 housing crash and recession, condo lending requirements have been very strict. That is because banks are rarely successful selling your loan to Fannie, Freddie, or any other secondary market. They need to keep them on their balance sheets. Your Debt-To-Income-Ratio needs to conform. You can't state your income without verification. You must put at least 20% down. Your interest rate is higher than normal second home loans. The rate increases again if you want to own a second condo. This makes things difficult for bulk investors, speculators, and flippers.
Panama City Beach Condo Buyers VS Speculators
Speculators and Bulk Real Estate Investors
Because of the strict lending requirements condo investors and speculators have been largely prevented from entering the Panama City Beach condo market. It is very difficult for someone to own 3-20 condos in Panama City Beach, which was common before the 2007 real estate market crash. The capital requirements are 20-40% higher than normal secondary home loans. The interest rates are at least 2% higher. There is no stated income loans and no goofy lending. This is keeping bulk owners and flippers out of the condo market.
Panama City Beach Condo Buyers Post 2008
Buyers do pay attention to price. They pay attention to rental income. They are normally buying 1-3 condos. Most of the time the second or third purchase is after the other condos are paid off. They can clearly afford to purchase these properties. Many owners primary motivation focus is on personal building preference, not just the rate of return. This is contributing to a healthy condo market.
If Lending Requirements Loosen Up
If banks find a secondary market for condo loans hold on to your hat. We are likely to see drastic price increases. This will open the door for every buyer who has been prevented from entering this condo market for over ten years. People who couldn't afford to put 20% down. People who don't have a good enough Debt-To-Income-Ratio. People who can only do stated income loans. This would set the stage to repeat 2004-2005 all over again.
Splash Condominium, Panama City Beach real estate, Panama City Beach condos for sale, Real Estate Market Updates, Calypso Condominium
Created on .
Last updated on .
Hits: 5741